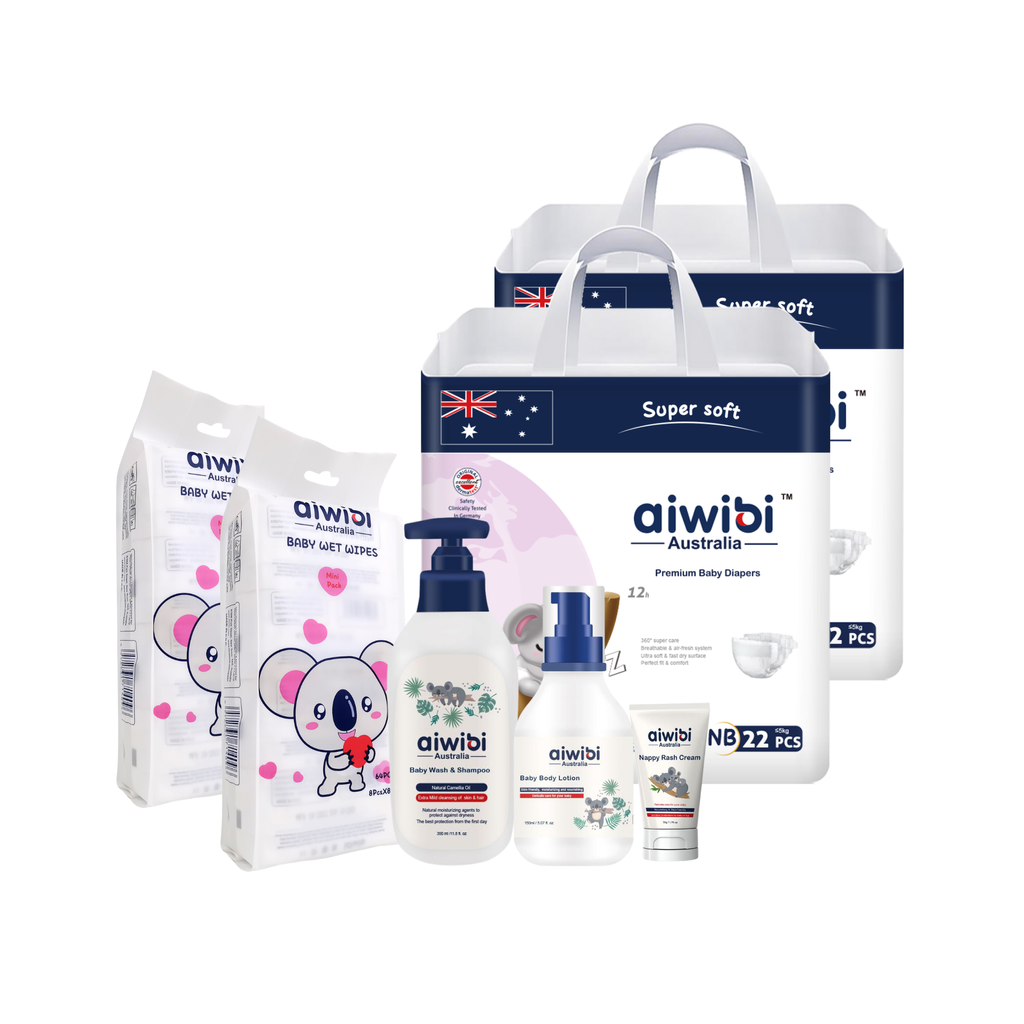 Aiwibi Newborn Starter Pack Baby Shower Gift Pack
AIWIBI is a premium baby diaper brand from Australia. It has a super-soft and dry texture with fantastic absorbency.
AIWIBI is not only committed to providing premium, comfortable diapers for your baby but, more importantly, represents an attitude towards responsibility in the improvement of babies' safety and all aspects of care.
Popular in over 50 countries, including Australia, Malaysia, South Korea, Russia, Singapore, China, Dubai, Mongolia, Thailand, the Philippines, Vietnam, and Myanmar.
This pack consists of:
2 x Diaper Tape Newborn 22pcs
2 x Travel Pack Wet Wipes 64 Sheets
1 x 150ml Non-Greasy Baby Lotion
1 x 350ml Baby Wash & Shampoo
1 x 50g Nappy Rash Cream
Ideal for gifting, baby shower party, starter for mom-to-be/ parents-to-be.
Features for each product can be referred to individual listing.
Product Highlights:
Stretchable Waistband
Super Soft
Comfortable Top Sheet
Breathable
3D Leakage Barrier
Magic Tapes
New Antibacterial Polymer
Weak Acid Safety PH Value
Ultra-Thin
Double Core High Absorption
ISO Organization, FDA, CE, SGS, Derma test Certified
Product Features:
Elastic Waistband: Provide a snug comfortable fit.
Magic Gel Channels: Allow urine to extend to both sides instantly, distribute wetness fast & evenly.
#hampers #giftpack #babyshower #aiwibi #aiwibinewborn #newbornset #newborngiftpack #whizurlshop #readystock #malaysiastock #localseller